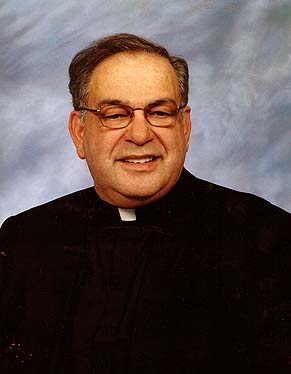 Rev. Lagoa the Priest --- Rev. Lagoa the Man

Rev. Raul M. Lagoa, 66, pastor of St. John of God Parish in Somerset, passed away suddenly on Monday, January 30 of natural causes.
He was the son of the late Evaristo and Maria Dias Lagoa. He is survived by his brother Charles of Tampa, FL, and his sisters Mary Ouimet of New Bedford, Teri Gifford of So. Dartmouth and Eileen Peters of West Palm Beach, Fl. as well as ten nieces and nephews and several great nieces and nephews.
Fr. Lagoa graduated from New Bedford High School and studied at Johnson and Wales College in Providence. He received his Bachelor's Degree from Providence College.
For many years he was an accountant for Arlans Department Store in New Bedford.
Fr. Lagoa was a veteran of the United States Navy. He did his seminary studies at Blessed John XXIII National Seminary in Weston. He was ordained by Bishop Daniel A. Cronin at St. Mary's Cathedral in Fall River in 1979.
His priestly assignments included St. Mary's Church in Norton, Our Lady of Lourdes Church in Taunton, St. John the Baptist Church in New Bedford. He was the beloved chaplain for several years at Morton Hospital in Taunton. He served also at St. Michael's Church in Fall River and his first pastorate was at St. Joseph's Church in Taunton.
He was named pastor of St. John of God Parish in Somerset in 1996.
Fr. Lagoa will lie in state at St. John of God Church on FRIDAY from 4-8 p.m. with a wake service beginning at 7:00 p.m. A Mass of Christian Burial will be celebrated on SATURDAY in St. John of God Church at 11:00 A.M. Interment in St. John the Baptist Cemetery, New Bedford. In lieu of flowers, memorial contributions can be made in Father Lagoa's memory to the St. Jude Children's Research Hospital, P.O. Box 1000 Dept. 142 Memphis, TN 38148-0142. Arrangements are under the direction of the MANUEL ROGERS & SONS FUNERAL HOME, 1521 N. Main St., Fall River. www.rogersfuneral.com

John 14:1-4 "Let not your hearts be troubled. Believe in God; believe also in me. In my Father's house are many rooms. If it were not so, would I have told you that I go to prepare a place for you? And if I go and prepare a place for you, I will come again and will take you to myself, that where I am you may be also. And you know the way to where I am going."